Sustainability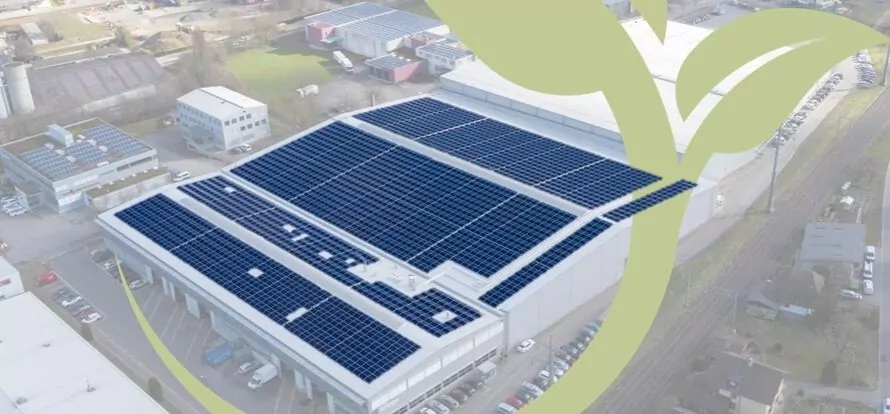 The solar installation (photovoltaics) on the roof of the Alloga building in Burgdorf has been in operation on 2018. It generates almost 1,280 megawatt hours of green electricity per year. This equates to the electricity consumption of around 270 homes. This saved 240 tonnes of CO2 in the first 12 months.
Solarstadt Burgdorf AG brought the photovoltaic system on the roof of Alloga into operation on 7 December 2018. Covering some 7'100 m2, the 4,700 modules, each weighing 18.3 kg, generate 1,280 megawatt hours (MWh) of sustainable electricity per year. The solar installation therefore makes a considerable contribution to sustainable energy production for the town of Burgdorf.
"The overall photovoltaic (PV) energy production of Solarstadt Burgdorf AG has been increased four-fold by the solar installation on the roof of Alloga", according to Beat Ritler, Managing Director of Solarstadt Burgdorf AG.

240 tonnes of CO2 already saved
In the first year of operation, 240 tonnes of CO2 emissions were avoided by using this photovoltaic system. This is equivalent to the amount of CO2 that would be emitted by a car over a journey of some 1.6 million km. To remove the same amount of CO2 from the atmosphere over ten years, 20,000 trees would have to be planted. The energy generated annually by the PV system is equivalent to some 123,000 litres of heating oil, 112,000 m3 of gas or 157 tonnes of coal.

Through this solar installation, Alloga is making an important contribution to sustainable energy production.


What else we are doing to care for people and the earth

- We strive to offer our customers resource-saving logistics services by working with a transport service provider that has a fleet of vehicles that is around 90% compliant with today's Euro 6 emissions standard. The E-fleet is used for fine distribution in cities and conurbations.
- Express logistics (reduction of CO2 emissions through the clever combination of ecological means of transport).

- We support our team in maintaining their health with targeted offers and measures such as ergonomic workplaces, extended maternity leave, holiday purchases, flu vaccinations, regular information on accident prevention, massages and fruit days at the workplace, special rates on fitness subscriptions and others.
- It also seems important to us to train our team in the sustainable use of work materials.

- Installation of a new heat pump in 2022. The goal was to install a redundant heating unit that would minimise gas consumption, while being economical and environmentally friendly by using groundwater. In addition, the installation of a heat pump supports Alloga's fundamental energy-saving target of reducing CO2 emissions by 80 % and energy consumption by around 20 % within ten years.
- We separate the waste. Every year, around 90 million product packs leave Alloga's warehouses. These packages are previously delivered in large quantities on pallets and must be partly repalletised for storage. This produces packaging waste, which Alloga disposes of properly.
- In addition, we help minimise waste by using reusable transport boxes, which customers can conveniently return for their next delivery without any extra effort.
Our commitment to the well-being of our patients is a value that is present throughout the Galenica Group. Further explanations and descriptions can be found in the Galenica Group Sustainability Report or here.